Customized fully automatic laser tube&pipe cutting machine for a European customer
Specifications:
AISI 304 Stainless steel pipe
O.D.: 12-70mm
Length: 3M
Thickness: 1.5-2.0mm
Cutting length: 10-1000mm
Difficulty: the space of customer's factory is limited.
Our solution: we recommend our fully automatic laser tube&pipe cutting machine LX-FL120 to the customer with a 3 meters customized automatic feeding rack(the original length is 6 meters). In this way, the length of the whole set of machine (automatic feeding rack + laser part) is less than 6 meters.
video: https://youtu.be/GniHz8m6Y2o
There was also another competitor in Shandong, China offered a laser tube&pipe cutting machine to our customer. But their machine structure is different from ours: their laser generator works horizontally without a safety cover. From a professional point of view, the attenuated range of the laser is about 2 meters, if the laser generator works without safety cover, it might cause irreparable consequences, like operators or any others hurt by laser. And most importantly, it fails to meet the CE standards.
Finally, the customer chose us.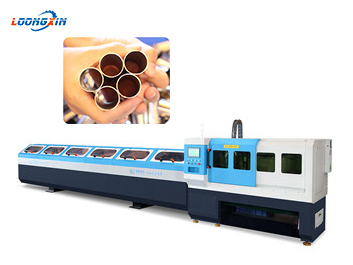 (longxin laser pipe cutting machine )
The article is form longxin laser pipe cutting machine manufacturer