LX355CNC-H servo feeder automatic metal circular sawing machine with piece end pulling out function
Main advantage:
.Servo automatic feeding
.5 sets number of different cutting length
.Material piece end pull out function
.PLC touch screen control
. Electronic cutting counter
.No burr, high accuracy
.Right & left clamp
. Vertical slide way up-and-down sawing
Cutting capacity(Mild steel)mm
Head Swivel

90°

Round tube

110mm

Square Tube

100*100mm

Solid bar

50mm

Normal mild steel thickness less than 4mm. Ditermined by the thickness of pipe cutting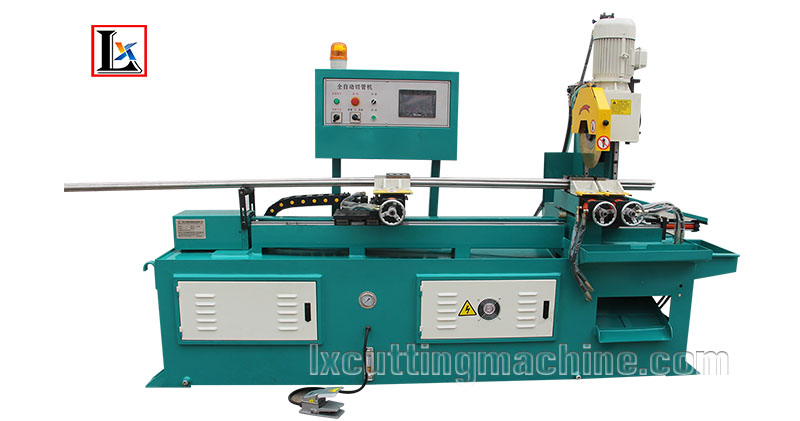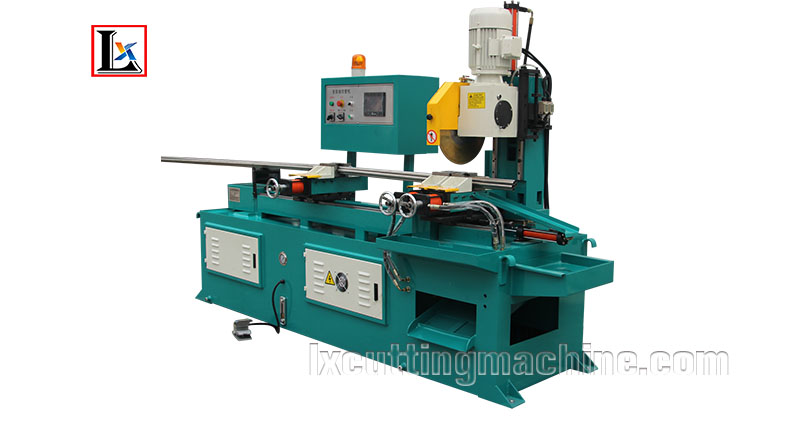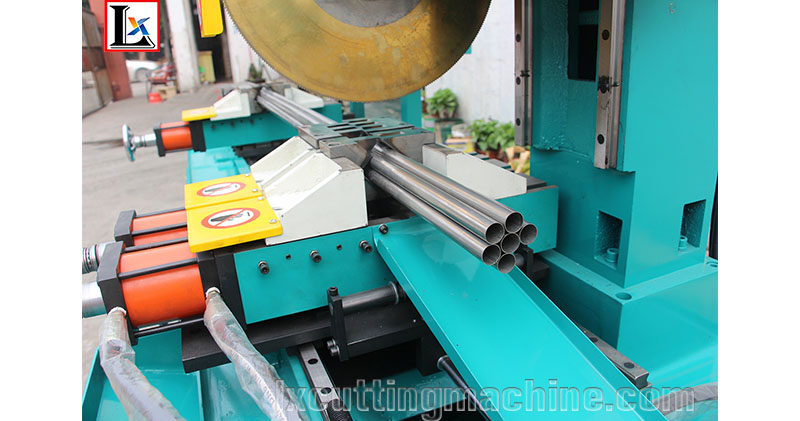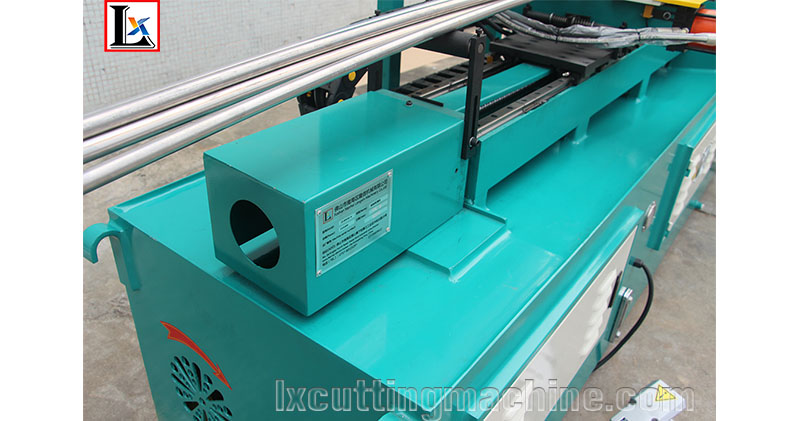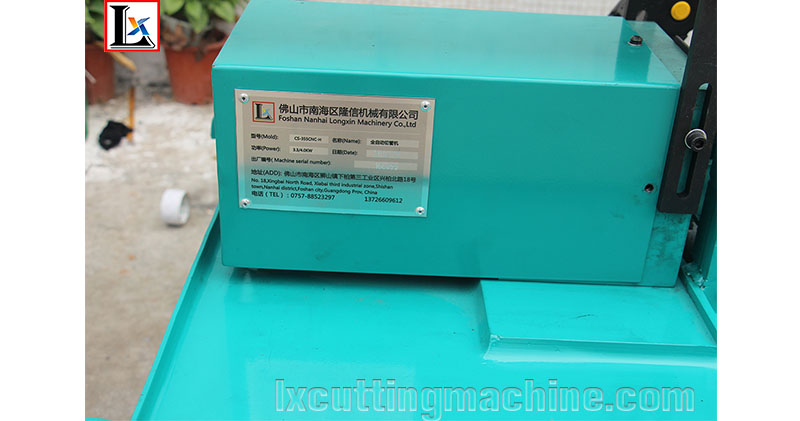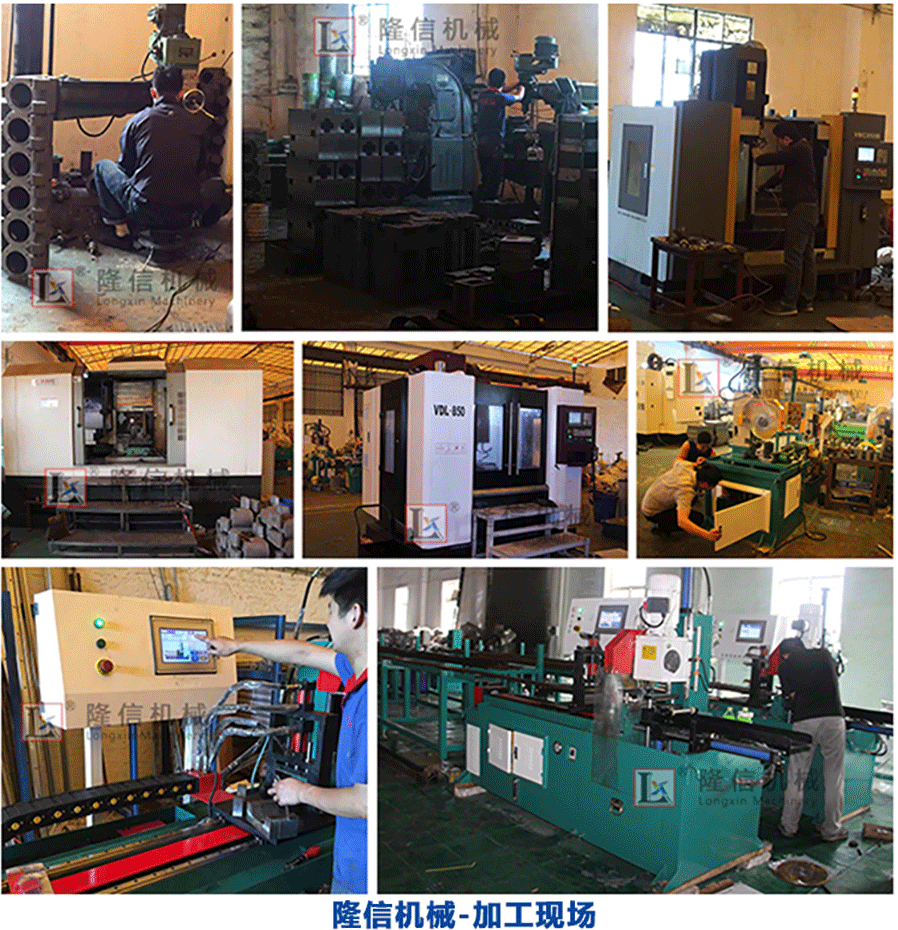 CS-355CNC-H servo feeder full automatic pipe cutting machine – piece end pulling out function
The features of the machine:
1. Vertical slide way up-and-down saw feeding and with drawing is stable, assuring long cutter operating life and high sawing accuracy.
2. Low-speed rotation of the high-speed hacksaw piece, suitable for cutting metal pipe. No burr,no black ,not deformed.
3. Servo feeding, high feeding accuracy. Uniquely designed feeding system, floating type, will not damage workpiece surface.
4. The switch button and the PLC control, easy operation, has no connection points, no defects, and it is easy to maintain.
5. Can be set multiple intelligence feed, the machine cutting length can reach to a single feed at any times.
6. Can be set up 5sets number of different cutting length and yield, to finish cutting.
7. Automatic non-material machine stopping device
8. Powerful cooling system to ensure the durability of the saw blade, and service life.
9. The lifting function, reducing pipe fittings and mold friction. The greatest extent to protection the pipe fittings.
10. A work cycle 5-7 seconds / piece. According to the pipe size specifications to adjust the speed.
11. Electronic sawing & cutting counter is included. When the setting quantity is over, the machine will stop action.
12.With the function of pull leftover material. Solve the conventional cutting machine for the last period of tailing cannot issue, should be carried out in secondary processing of the complicated operation. Save a lot of manpower material resources.
13.PLC touch screen control, high resolution 10 inch LCD screen display, the length is adjustable. Liquid crystal display real-time cutting 3D animation function, cutting more intuitive.
With piece end pulling out function:
1.With the function of pull out material end piece
2.Automatic cutting into the hopper, saving material.
3.Tails no secondary cutting. Work machine once completed, save a lot of time.
4. Labor saving and improve productivity.
Standard configuration:
1.Basic machine station;
2.Oil pressure system;
3.Automatic controlled electric system;
4.Repair Toolbox