Professional in processing copper, aluminum, steel, stainless steel, iron and other metal square, flat, round pipe fitting taper pipe end forming and adding various pipe fittings processing business, mass production, fast speed, high efficiency
Processing Mode
1. The pipe metal laser cutting machine can cut at the head of multiple different direction, the curve of the diameter of the cylindrical hole, meet the branch pipe axis intersect with the vertical head axis eccentricity and eccentric.
2. The cylinder intersecting line terminal can be cut at the end of the branch pipe to meet the conditions of eccentric and non-eccentric vertical intersection and inclined intersection between the branch pipe axis and the main axis.
3. Can cut the inclined end face at the end of the round pipe.
4. The branch pipe intersecting with the ring pipe can be cut at the end of the intersecting line.
5. Capable of cutting chamfered groove.
6. Can cut square hole and waist hole on round pipe.
7. Capable of steel pipe truncation
8. Can cut various shapes on the square pipe surface.
9. Applicable to stainless steel, carbon steel, alloy steel, aluminum, copper, titanium and other metal pipe materials.
10. laser cutting,highprecision,accuracy ±0.1mm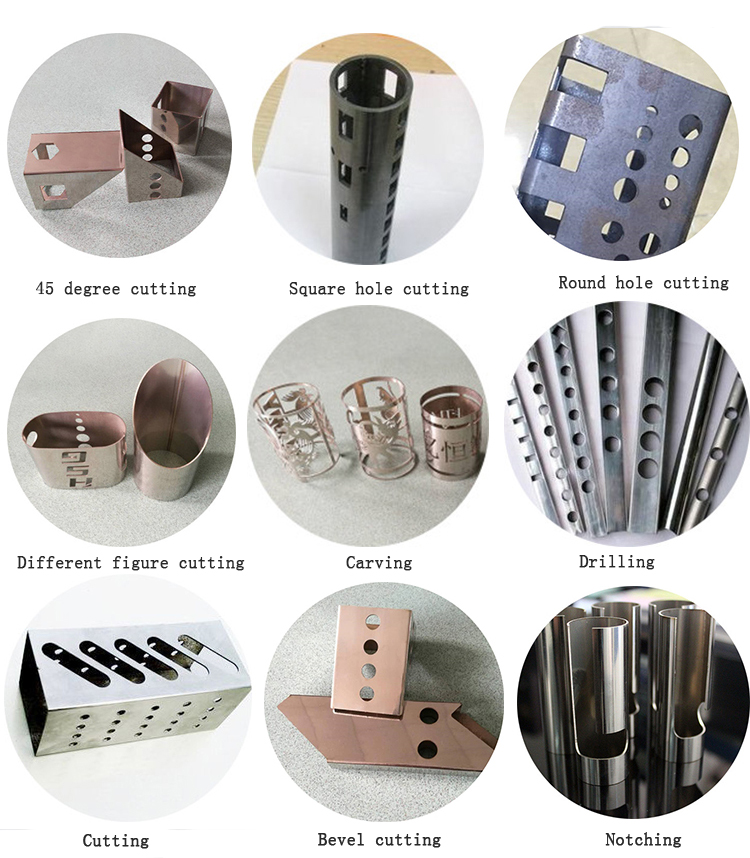 Processing range: for Precision CNC laser pipe cutting Processing Services, laser cutting Processing,CNC laser cutting Processing, pipe processing service
1. The round pipe, square pipe, rectangular pipe and special pipe with convex contour made of steel, stainless steel and aluminum can be processed, and the Angle iron, channel steel and flat steel can be processed.
2. Scope of machining cylindrical contour, 10 mm - 273 - mm diameter (note: 10-273 - mm diameter circular tube processing, if the square tube is 10-273 - mm, if the square tube is diagonal, special pipes is calculated to the rotation of the outer contour diameter pipe geometry center.
3. The automatic feeding range of the pipe is 2500-6500mm, and manual feeding is required for special pipes and profiles.
| | |
| --- | --- |
| Processing object | round pipe, square pipe, rectangular pipe, shaped pipe, Angle iron, steel groove, flat iron |
| Processing materials | stainless steel, carbon steel, alloy steel, aluminum, copper, titanium and other metal pipe materials |
| diameter | 10-273MM |
| Material thickness | 0.29-12MM |