The stainless steel welded tube mill has been continuously improved in recent years, however, it still uses HSS saw blade, resin grinding wheel or band saw for inline cutting. These are traditional cutting technologies 20 years ago.
These traditional cutting methods only bring the poor cutting quality, bad accuracy and low efficiency, that make the tube production line can only produce 6 meters long and needs second time off-line cutting for shorter lengths. That makes the production with more processes, large losses and low efficiency.
Longxin Laser combines the fruitful experiences in the 'inline HSS saw cutter' and the fiber laser technology, launch the unique and brand new "Laser Inline Synchronous Cutting Machine". This machine can offer fast speed, high precision, and no deformation cutting. It can transform the tube making process from coil to finished product, cancel the offline cutting process, greatly improve the overall efficiency and reduce the production cost.
One of our customers, which is manufacturing automotive tail pipes, has purchased our inline fiber laser tube cutting machine, which is innovation design for tube manufacturing industry.
This equipment is a reciprocating synchronous cutting machine that uses fiber laser as cutting method and encoder for measuring the tube length and welding speed. When the pipe length reaches the set length, the motion platform with a chuck will keep same speed as the tube mill and clamp the pipe, then the laser head will rotate 360° around the pipe and cut. After cutting, the chuck will unclamp and back to the original point to wait for the next cutting action.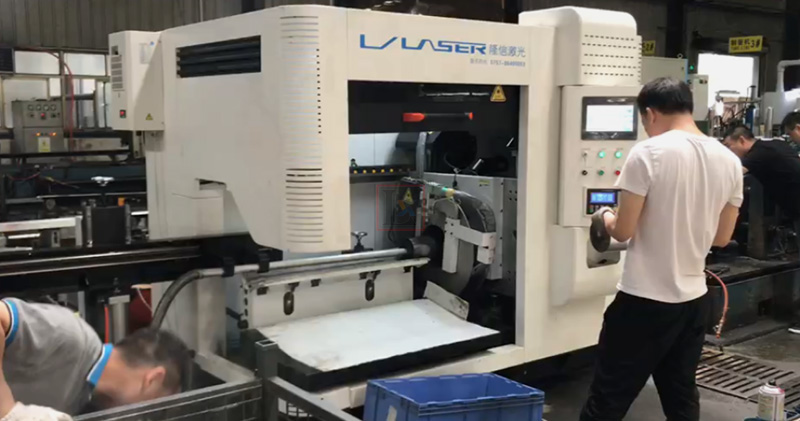 Features:
1.Self-centering electric three-jaw chuck clamping, high accuracy cutting edge verticality. (±0.3mm)
2. We use encoder to locate cutting length & 360° surround laser cutting.
3. To ensure the cleanliness of the pipe, we use the slag rod to collect the cutting slag with servo controling.
4. To ensure the cutting quality, the laser head is equipped with a height adjustment system. When the pipe is out of round or slightly bent, the height adjuster can adjust the distance between the laser head nozzle and the pipe surface in real time, so as to reduce the cutting slag hanging on the edge and ensure its smoothness.
It is specially suitable for automobile exhaust pipes, thermos cup pipes, water heaters and smoke exhaust pipes production.