Recently we got orders from our Russian customer for the LX-FL40F and the new machine K6.
This Customer has 3 manufacturers in Russia, He is professional in doing the household items, children's products, leisure furniture.
In February 16th, Customer ordered us one set the high speed cutting machine LX-FL40F.
LX-FL40F is Special for the small round pipe, which can help customer to do the round pipe straight cut in high speed, improving his cutting efficient.
Here are the tube size information to this customer.
| | |
| --- | --- |
| Tube size | Range of cutting length |
| 30*15*0.8mm oval pipes | 205-905mm |
| 40*20*0.8mm oval pipes | 889mm |
| 70*30*1.0mm oval pipes | 250-518mm |
| 30*15*1.0mm rectangular pipes | 215-625mm |
| 16*1.0mm round pipes | 572mm |
| 40*40*1.0mm square pipes | 485mm |
How about the oval pipe, square pipe and the rectangular pipe cutting for this customer?
In the Market, for square pipe and oval pipe cutting, all our competitors have the solutions in universal cutting machine, they think universal machines can meet the cutting requirements in square pipe, Round pipe, and other shape materials. Normally, the speed of universal cutting machine is slow.
On the other hand, square pipe laser cutting has a high requirement in the machine systems. When cutting the square pipe, the laser head should move up and down following the turning square pipe.The machine motion system and the machine height adjustment system should be work and Cooperate very well. This technology is more complicated than the round pipe machine's.
We heard customers' voice, and saw their cutting needs. To provide customer a better solution, in April, Our new machine K6 came out. This machine is a new blood in the pipe and tube laser cutting industry!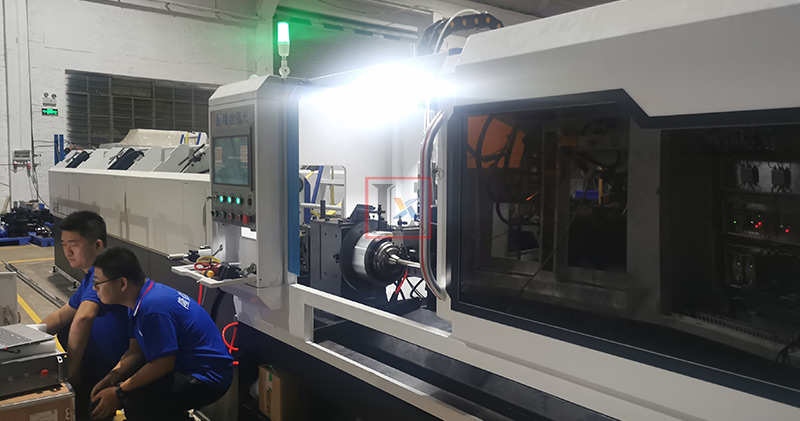 Once K6 was launched, we suggested this machine to our Russian customer. He thought the fast speed cutting is very suitable for his production and he ordered us again. This machine can help customer for cutting oval pipe, square pipe and the rectangular pipe cutting!