LX Laser, one of leading pipe cutting and processing machine manufacturer in China, has been invited to attend India's "Machine & Process Automation for Stainless Steel" Webinar. This webinar is organized by Stainless Bazaar, which is India's first online marketplace for stainless steel industry.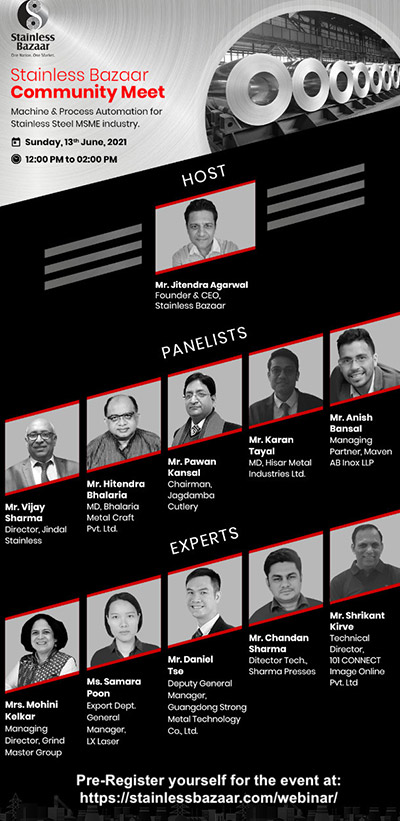 The panelists they invited are the Industry Leaders and Experts from India, including Jindal Stainless, which is world-famous and the top 1 in India's steel industry. And as one of the only two companies abroad to participate in this webinar, LX Laser is very honored to be invited.
The panelists discussed about the current situation and development of the tube mills in India, shared the latest production technologies and machines. It has gained high attention from a number of SMEs in stainless steel industry, like pipe, sheet, coil, rods, utensils, kitchen equipment, accessories, scrap, machinery, etc.
Ms. Samara, General Manager of LX Laser, talked about pipe production and processing automation in the webinar. She shared the latest technology and popular machines that we're using in China and exporting to all over the world.
The automated machines for stainless steel tube mills include:
Auto pipe feeder for polishing machine
Pipe packing machine
Fully automatic round pipe non-scratching unloading machine
Bundling machine
With the application of those automatic machines, the pipes are well protected both in surface and shape. Besides, it helps pipe making factories greatly save labor costs, for example: traditionally 10 polishing machines need 10 workers, after applying the automatic machines, only 5 people can complete the same output, directly saving labor cost by 50%.
In the Webinar, Ms.Samara also discussed about the problems facing by China's pipe factories and shared her useful insights on how to stay competitive in the pipe industry like providing cutting service for customers. The suggested additional services include: online cutting and simple straight cutting to begin with, multi-functional cutting, etc. The technology upgradation and coming out with unique products can be helpful in dealing with the industry problems. Her exclusive views have attracted great attention and praise in the meeting.
Above products are independently developed by LX Laser, most of the them have reached the international advanced level and been widely used both in China and abroad.
LX Laser will continue to make every effort to help customers solve the pipe production and cutting problems, provide overall solution and equipment to really realize the production automation for them.
We benefit a lot from the "Machine & Process Automation for Stainless Steel" Webinar, thanks for Stainless Bazaar's professional organization and kind invitation.
Full webinar