J company is a manufacturer of auto parts in Czech, which is one of suppliers of Skoda Auto & Hyundai Auto. They are planning to set up a new production line in this year. After a long period of communication, the company decided to reach cooperation with LX-Laser. They decided to use our FL-120 fully automatic laser pipe cutting machine along with conveyor & double end chamfering machine for the new project, which will ensure the average process time of each work piece within 7 seconds.
Although we have reach to agreement on the final technical proposal, the boss of J company asked a question about the noise made by the air compressor during operation. He was concerned that the noise problem would violate the laws & regulations on noise limits in Czech, so he asked us to change the model & configuration of the air compressor.
The pressure of the compressed air for laser pipe cutting should reach above 16kg. We suggest the 3.0mpa 11kw all-in-one air compressor set for our customers. Considering factors of cost benefit & customer's future plan, we don't recommend change the proposal.
In order to clear out customer's concerns on noise, we got the details of air compressor operation from the supplier & technicians. The air compressor is not set to work with noise all the time. It will work automatically based on user's setting & air tank status. For example, we set the range of air pressure to 16-30kg in the control panel.
After 15-20 minutes of operation, the air pressure in the air tank will reach to 30kg. Then the compressor will stop. During laser cutting process, the compressed air in the tank will be kept consuming. When the pressure drops to 16kg, the air compressor will work again for 5-8 minutes to pressurize back to 30kg.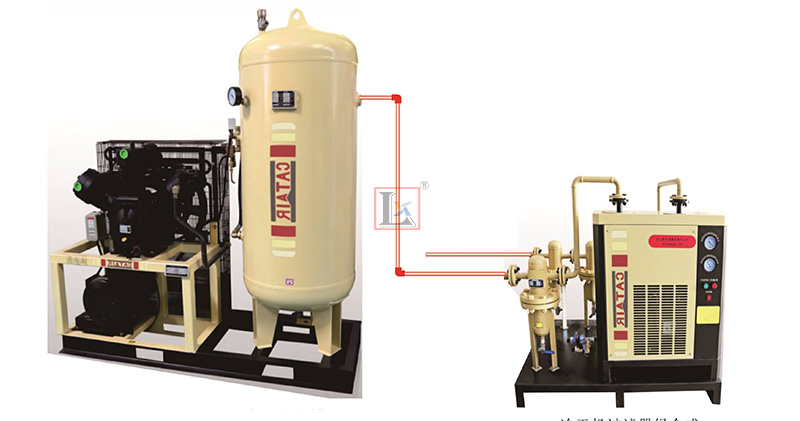 According to our technicians, based on the setting above, the air compressor can support 1 set of LX-FL120 to work 2-3 hours after one time of operation. The compressor will only work 3-4 times per working day. Each time will take within 10 minutes, and the noise will be below 90 decibels.
We told J company about the above information, and they found out the noise wouldn't cause any problems at all. They were also amazed at our knowledge on the air compressor, which made them further affirm our professionalism in laser tube cutting.